Mine for Sale
Turn key mine for sale!    This one is sold!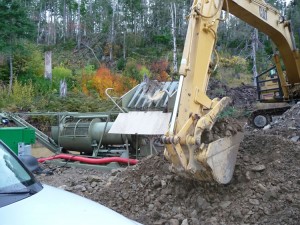 70 acres of deeded timber and mining land.  A lot of mining was done on properties around this one, but very little mining has been done on this property.  Everything you need to get gold is ready to go!  The property is accessible by 2 wheel drive vehicles in the summer.  It is located in the gold belt area of Southern Oregon.  Private land is much easier to get permission to mine.  My permit only took a few weeks and was quite inexpensive.
Here is what is included:
70 acres of beautiful side hill and valley property, with about 2 miles of year around creek, much of it is gated and private
A nice Caterpillar 312 excavator with a thumb, good undercarriage, runs and works well
A tromel wash plant with 6 foot wide hydraulic sluice box, designed for up to 60 yards per hour
Camp area with 36 foot fifth wheel, with 3 slides, 26 foot camp trailer (kind of rustic ) gravity water from a spring
20 foot storage container, with shovels, pans, tree trimmer and various other tools and supplies
1971 White 10 wheel dump truck, Cummins diesel engine, it needs a hood and fender, but it runs and works well
D-21 Komatsu dozer with a 6 way blade, it has under 800 hours on it
30 KW, 3 phase generator with a diesel engine (runs good but leaks a little oil )
6 inch trash pump with a Detroit Diesel engine, runs and works well
Long tom for cleaning up concentrates out of the sluice box
If you have your own machinery, I will keep the 312 and the Komatsu D-21.  That would make the cost of the mine only $258,000!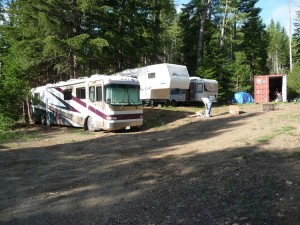 I have had this property for about 3 years.  I have mined a little and have gotten some gold.  This is a gold bearing area and needs someone to spend more time than I have mining!
I am asking $310,000 cash serious enquiries only.